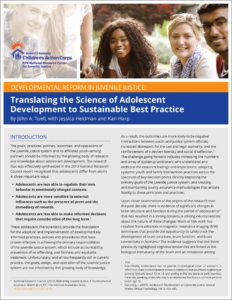 The goals, practices, policies, outcomes, and operations of the juvenile justice system and its affiliated youth-serving partners should be informed by the growing body of research and knowledge about adolescent development. Our challenge moving forward requires an intentional focus on increasing the number of system practitioners who understand and embrace the research findings and implications, who translate this research to systematic and sustainable practices across the spectrum of key decision points connected to the primary goals of the juvenile justice system, and who create and maintain quality assurance methodologies that ensure fidelity to these principles and practices. Fortunately, the experiences of field-based technical assistance and training initiatives – informed by juvenile justice leaders and stakeholders – have resulted in a synthesizing of the hallmark principles of adolescent development upon which we may structure a set of identifiable and interwoven practices that provide a pathway to excellence on behalf of our nation's youth and families involved in the juvenile justice system.
Our NEW publication, entitled Developmental Reform in Juvenile Justice: Translating the Science of Adolescent Development to Sustainable Best Practice, is written to support the continued transformation of our nation's juvenile justice systems in a manner that adheres to its primary responsibilities while effectively incorporating the research-based knowledge about adolescent development into practice. The practice brief also lays out a set of research-based best practices and approaches that are fundamental to a state or local jurisdiction's efforts to maximize the likelihood for improved and sustainable youth outcomes and system performance consistent with the research on adolescent development.
CLICK HERE to access our new practice brief!