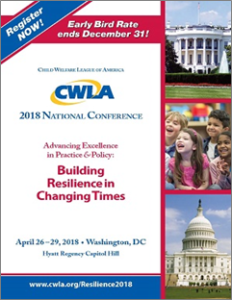 The CWLA 2018 National Conference, Advancing Excellence in Practice and Policy: Building Resilience in Changing Times, will feature an extended educational opportunity in our special two-day Training Institute on Saturday, April 28 and Sunday, April 29. Participants will experience in-depth learning on some of today's most relevant topics including:
Youth Involved with Child Welfare and Juvenile Justice: The Power of Partnership in Building Youth and System Resiliency
Youth who touch both the child welfare and juvenile justice systems, also known as "dual status youth," are among the most vulnerable served by each system. Those working with these youth recognize the challenges inherent in serving children who often have high needs, significant trauma, and tenuous or largely absent support systems. Systems are strained by these challenges, and youth are suffering the consequences, as demonstrated by poor outcomes in both adolescence and adulthood. The Robert F. Kennedy National Resource Center for Juvenile Justice has developed a framework for addressing these challenges and promoting collaboration between agencies that together can achieve what no single system can alone. This training will provide dynamic guidance on the tools, approaches, and recommended practices to improve outcomes for this population of youth, thereby strengthening the systems and agencies serving these valuable young people.
The training will include child welfare practitioners who have successfully built partnerships with their juvenile justice counterparts and witnessed the establishment and strengthening of a true alliance in serving these highly vulnerable youth. Participants will engage in interactive discussions and activities to explore the benefits and challenges of collaborative work on behalf of the youth involved in child welfare and juvenile justice, and will leave with knowledge, tools and a roadmap for strengthening their agency or organization's ability to serve dual status youth.
Visit CWLA Training Institute (https://www.cwla.org/resilience2018/#training) for full details on all available training topics. Since you've traveled to be with us for the conference, adding on the Training Institute sessions is a cost-effective way to take part in exceptional training as well. Be sure to select the "Premium" Full Conference Registration which includes the Training Institute and CEUs for all four days for just $100 more. We can't wait to see you in Washington!
Click HERE to Register Today!