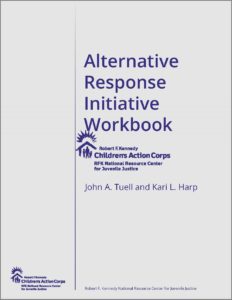 The Robert F. Kennedy National Resource Center for Juvenile Justice (RFK National Resource Center) is proud to announce a NEW initiative to support state and local jurisdictions in their efforts to develop or enhance their system of alternative responses to formal prosecution. The RFK National Resource Center has authored the Alternative Response Initiative (ARI) Workbook (released November 2019) to support the creation of a comprehensive system of diversionary practices and collaborative system approaches to fully realize community and agency partnerships that protect public safety, ensure accountability, and take advantage of restorative justice principles through a robust system of alternatives to formal prosecution to produce positive youth outcomes. Jurisdictional leaders and key stakeholders will engage in collaborative planning and use the tenets of implementation science to ensure:
sustainable opportunities to preserve limited probation and court resources for the population of youth who do require ongoing oversight (right-sizing caseloads)
minimizing entry into the juvenile justice system for youth who may be held accountable more effectively through evidence-informed alternative services and community-based  interventions
maximizing of opportunities to produce, sustain and effectively measure positive outcomes for low and moderate risk youth
Consistent with the RFK National Resource Center's rich history of field-based training and technical assistance partnerships that have been guided by the seminal frameworks in the areas of Probation System Transformation and Dual Status Youth, the ARI involves a five step process:
  Step 1: Preparation and Mobilization
  Step 2: Introduction and Analysis
  Step 3: Ongoing Analysis and Findings
  Step 4: Action Planning
  Step 5: Implementation
During a six to nine month time period, an RFK Consultant Team would conduct four on-site technical assistance visits to support the examination, analysis, findings and recommendations that will shape actions steps and implementation strategies to achieve the unique goals, objectives, and outcomes established by the state or local jurisdiction.
The RFK National Resource Center is excited to add this primary focus area to the portfolio of juvenile justice system transformation initiatives that have positively impacted dramatic improvements in system performance and youth outcomes in state and local jurisdictions across the nation. We look forward to partnering with you to support your commitment to enhanced practice for alternative responses to formal prosecution.
Please contact John A. Tuell, Executive Director (jtuell@rfkchildren.org) or Kari L. Harp, Associate Executive Director (kharp@rfkchildren.org) to learn more or discuss your interest in benefiting from this important initiative.