Resources
Click here to return to the main Resources page.
---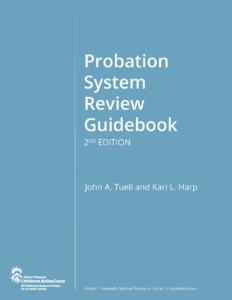 Probation System Review Guidebook, 2nd Edition
John A. Tuell and Kari L. Harp, Robert F. Kennedy National Resource Center for Juvenile Justice, 2016
The RFK National Resource Center provides consultation and technical assistance for the conduct of an analysis and review of state and local jurisdiction's probation departments and juvenile justice systems. Whether conducted with our support or independently, this new publication provides the analytical framework that guides the review process toward alignment of jurisdictions' practices with national best practice standards that contribute to improved system performance and youth outcomes. The Probation System Review Guidebook, 2nd edition (PSR Guidebook) presents the updated four key elements (Administration, Probation Supervision, Intra- and Interagency Work Processes, and Quality Assurance) central to the review and includes numerous jurisdictional examples, practical tools and instruments, and other useful resources that support probation system reform. The PSR Guidebook aligns reform approaches with the most current advances in the field, based on up-to-date and relevant research on adolescent development, risks-needs-responsivity approaches, probation supervision, graduated system of responses, family engagement, and data-driven decision making.
---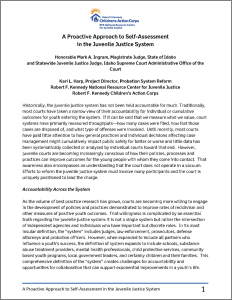 A Proactive Approach to Self-Assessment in the Juvenile Justice System
Honorable Mark A. Ingram & Kari Harp (National Trends in State Court, National Center for State Courts), 2016
The juvenile justice system has often failed to be pro-active in assessing the effectiveness of common policies and practices. This article encourages an intentional approach to holding our own system accountable for improving outcomes for youth. Because the system involves numerous invested parties, comprehensive self-assessment requires a collaborative approach that is often effectively led by the judiciary who sit at the center of the delinquency process. Jurisdictions are encouraged to consider their three quality assurance options: 1) continue with business as usual and hope youth are being served effectively, 2) wait until an account is called for by parties challenging the status quo and then address areas for improvement, or 3) proactively assess policies and practices to ensure they align with the research on what reduces recidivism and improves youth outcomes.
---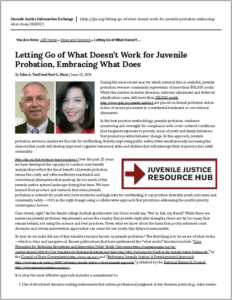 Letting Go of What Doesn't Work for Juvenile Probation, Embracing What Does
John A. Tuell and Kari L. Harp, Juvenile Justice Information Exchange, June 2016
In a best practice methodology, juvenile probation combines monitoring and oversight for compliance with the court ordered conditions and targeted responses to priority areas of youth and family behaviors that promote positive behavior change. In this approach, juvenile probation serves to ameliorate the risk for re-offending thereby improving public safety, while simultaneously increasing the chances that youth will develop improved cognitive behavioral skills and abilities that will interrupt their trajectory into adult criminality. The Robert F. Kennedy National Center for Juvenile Justice has made juvenile probation self-assessment in partnership with state and local jurisdictions an organizational priority. This column, published in the Juvenile Justice Information Exchange in June 2016, details the key components of the system review process and the key tenets and practices that comprise a probation and juvenile justice system truly aligned with those approaches that improve youth and system outcomes.
---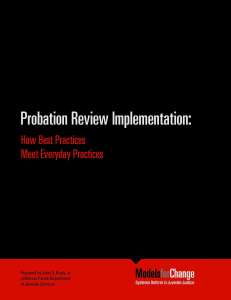 Probation Review Implementation: How Best Practices Meet Everyday Practices
Dr. John S. Ryals, Jr., Robert F. Kennedy Children's Actions Corps, 2013
Probation Review Implementation: How Best Practices Meet Everyday Practices serves as a companion guide to the Probation Review Guidebook (2011) and reports on the implementation of recommendations developed during the probation review process in Jefferson Parish, Louisiana. Efforts in Jefferson Parish resulted in substantial improvements in nearly every aspect of the Probation Department activities, including reduced recidivism, reduced rates of detention, reduced probation caseloads, and increased savings. This report details the successes and challenges of the implementation process and serves as a valuable tool for jurisdictions interested in improving their ability to change lives and protect the community.
---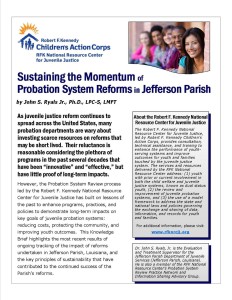 Sustaining the Momentum of Probation System Reform in Jefferson Parish
Dr. John S. Ryals, Jr., Robert F. Kennedy National Resource Center for Juvenile Justice, 2015
As juvenile justice reform continues to spread across the United States, many probation departments are wary about investing scarce resources on reforms that may be short lived. Their reluctance is reasonable considering the plethora of programs in the past several decades that have been "innovative" and "effective," but have little proof of long-term impacts. However, the Probation System Review process led by the Robert F. Kennedy National Resource Center for Juvenile Justice has built on lessons of the past to enhance programs, practices, and policies to demonstrate long-term impacts on key goals of juvenile probation systems – reducing costs, protecting the community, and improving youth outcomes. The new Practice Brief by John S. Ryals, Jr., highlights the most recent results of ongoing tracking of the impact of reforms undertaken in Jefferson Parish, Louisiana, and the key principles of sustainability that have contributed to the continued success of the Parish's reforms.