Dual Status Youth: Implementing and Sustaining Reforms
DESCRIPTION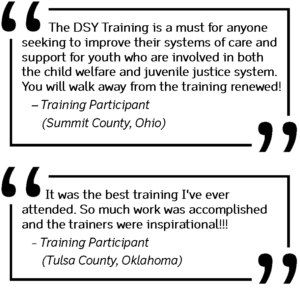 For jurisdictions that have developed policies and practices to better serve dual status youth, implementation and evaluation of these reforms can be difficult. This two-day training provides guidance through a process of evaluating a community's current dual status youth practice development and implementation in order to build upon effective reforms and address emerging challenges.
AUDIENCE
Juvenile justice and child welfare leadership groups, multi-system coalitions, practitioners and stakeholders involved in dual status youth practice, including education, law enforcement, and service providers as well as representatives from the youth and parent communities.
GOALS
The goals for this training are to:
Preliminarily assess whether dual status youth policies and practices are being implemented with fidelity and whether the reforms are having the intended impact.
Identify challenges and barriers to effective implementation of dual status youth policy and practice.
Develop a strategy for addressing identified challenges and barriers and applying principles of implementation science and sustainability planning.
OBJECTIVES
Upon completion of the training, participants will be able to:
Articulate the current status of dual status youth policy and practice reform efforts.
Preliminarily determine where the jurisdiction's dual status youth practice reforms have been successfully implemented and where challenges have arisen and impeded implementation.
Identify strategies for addressing implementation challenges and ensuring sustainability of practice reforms.
Develop an action plan for effective implementation and evaluation of reform efforts.
LEARN MORE
For more information about this training program and pricing, please contact Jessica Heldman, Associate Executive Director, at jheldman@rfkchildren.org.
♦ Click here to return to the main Training Institute page.