Resources
Click here to return to the main Resources page.
---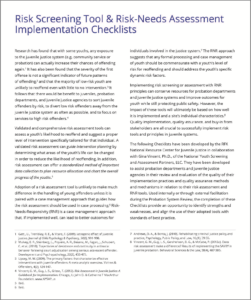 Risk Screening Tool & Risk-Needs Assessment Implementation Checklists
Robert F. Kennedy National Resource Center for Juvenile Justice, 2016
These Checklists were developed by the RFK National Resource Center in collaboration with Gina Vincent, Ph.D., of the National Youth Screening and Assessment Partners, LLC, to assist probation departments and juvenile justice agencies in their review and evaluation of the quality of their implementation practices and quality assurance methods and mechanisms in relation to their risk assessment and risk-needs-responsivity tools. Used internally or through external facilitation during the Probation System Review, the completion of these Checklists provide an opportunity to identify strengths and weaknesses, and align the use of their adopted tools with standards of best practice.
---
Other Useful Resources
Using Risk Assessment and Risk-Needs-Responsivity Principles in Juvenile Justice
By Dr. Gina M. Vincent, Psychiatry Information in Brief, 13 (2), Systems and Psychosocial Advances Research Center (2016)
Risk Assessment in Juvenile Justice: A Guidebook for Implementation
For Appendices click here.
By Drs. Gina M. Vincent, Laura S. Guy & Thomas Grisso (2012)
Innovation Brief Using Risk Assessment to Meet Needs and Reduce Recidivism
By Drs. Gina M. Vincent & Dr. Laura S. Guy (2012)
Knowledge Brief – Can Risk Assessment Improve Juvenile Justice Practices?
MacArthur Foundation's Models for Change Research Initiative (2011)
Online Resources
National Youth Screening & Assessment Project – Risk Screening & Risk/Needs Assessment
Click here to visit.
National Youth Screening & Assessment Project Resources
Click here to visit.