Dual Status Youth: Improving Outcomes for Youth Involved in Child Welfare and Juvenile Justice
DESCRIPTION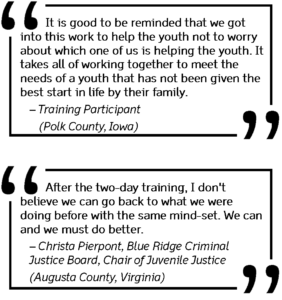 Youth who come into contact with both the juvenile justice and child welfare systems, known as dual status youth, often present highly challenging and complicated cases and tend to experience some of the poorest outcomes of all system-involved youth. This two-day training provides a comprehensive overview of the key best practices of multi-system coordination on behalf of dual status youth, preparing communities to develop and implement reforms to improve outcomes for these important youth.
AUDIENCE
Juvenile justice and child welfare leadership groups, multi-system coalitions, practitioners (e.g., probation officers and social workers), judges, attorneys, education personnel, behavioral health treatment providers and/or clinicians, law enforcement, community members (e.g., program directors, mentors), and other affiliated system stakeholders.
GOALS
The goals for this training are to:
Increase knowledge among child welfare, juvenile justice and other youth serving leaders, practitioners and stakeholders about best practices that improve youth outcomes and system performance for dual status youth.
Expedite the development, endorsement, implementation and sustainability of best practices for a coordinated and integrated system of care for dual status youth and their families.
OBJECTIVES
Upon completion of the training, participants will be able to:
Identify the most up-to-date key areas of best practice within the field of dual status youth reform.
Conduct a preliminary assessment of how the policies and/or practices under their purview align with national best practices.
Recognize their individual and collective opportunities and roles in advancing these best practices.
LEARN MORE
For more information about this training program and pricing, please contact Jessica Heldman, Associate Executive Director, at jheldman@rfkchildren.org.
♦ Click here to return to the main Training Institute page.